Information for Web Designers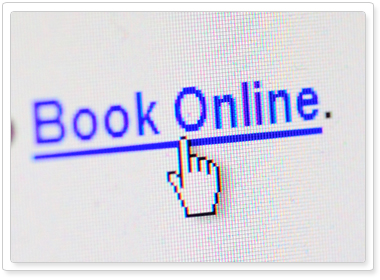 Get started quickly and easily by adding simple
links from your client's web site
The booking system is easy to add to your client's website and simple for client's to manage with a secure online control panel.
Getting started is easy, theres no software installation or technical skill required you just add a link from your client's website to the booking pages. Or if you prefer the pages can be included inside a frame.
Clients can either choose standard pages which come in a choice of 7 colour schemes or they can opt for pages that can fully match their website.
Customising the design
Take your client's booking system to another level with our customisable page upgrade - now your booking pages can fully match your website. Having booking pages that match the client's site means customers are unaware they've left their website and means their branding is maintained.
While the standard plain booking pages look good, with the optional customisable page upgrade your booking pages can transformed to fully match you website - maintaining your branding and helping generate customer confidence. The professional looking customisable pages help generate more online bookings.
Here's how one owner had his booking pages transformed: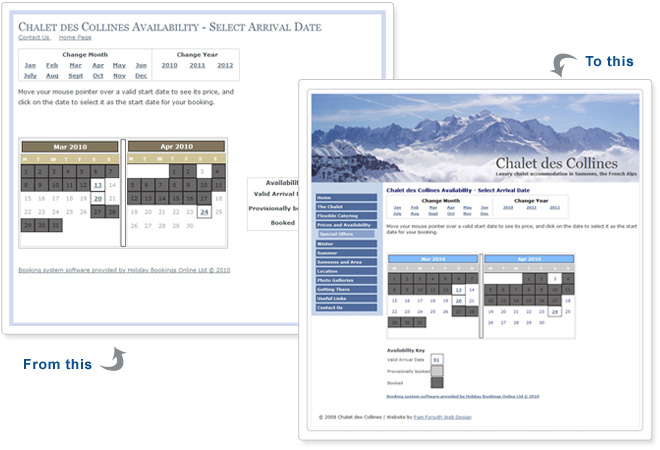 Choice of customising options to suit your client's budget
With our optional customisable page upgrade Holiday-Bookings-Online offers 3 levels of customising to meet your needs:
| Level | Description | Costs |
| --- | --- | --- |
| Default Non-Customisable Pages | 10 different pre-defined colour schemes to suit your needs | Included Free With All Accounts |
| DIY Custom Page Upgrade** | Enables your web designer to access templates and css code to be able to modify the booking pages to match your site. | £189 in the first year £60 per year hosting fee thereafter*** |
| Standard Customising** | Holiday-Bookings-Online does the standard customising work for you. We will alter the colours and font styles of the pages to match your website and add your logo to the page. | £199 in the first year. £60 per year hosting fee thereafter*** |
| Other Options | If you have very specific customised page requirements we can put you in touch with one of our recommended web designers who can give you a quote for your exact requirements. | |
* Prices are ex-vat @ 20%
** Custom page is an optional upgrade only available with Standard and Premium accounts
*** Once completed your web designer will have access to the customisable pages allowing them to make changes. Any changes you require us to do will be chargeable
Booking System Pages
The booking system comes with a number of pages that can be customised with the optional customisable page upgrade:
Page
Description
Included with account type
Availability and booking page
Displays your live availability and takes online bookings
Included with Basic, Standard and Premium systems
View Demo
Property Tariff Page
Tariff page displays the prices for your property
Included with Basic, Standard and Premium systems
View Demo
Availability Search Page
Customers can search all of your properties for availability.
Included with Standard and Premium systems with more than one property.
Premium system includes advanced search options.
View Demo
Special offer breaks page
The owner administration control panel makes it easy to create and update your own special offers in just a few minutes.
Included with Standard and Premium systems.
View Demo
Contact us page
Simple contact form for your website that reduces spam.
Included with Standard and Premium systems.
View Demo
The standard pages are shared among all property owners using the booking system but with the customisable page upgrade the owner gets their own separate template, CSS and image files.
All files are accessed via FTP and enable you to directly edit the HTML code of parts of the page and upload your own images and files. The dynamically created parts of the page - such as the booking calendar - cannot have their HTML edited. Instead you control the look and format using the CSS stylesheets.
If you're new to the booking system than allow between 6 - 8 hours for the customising process, depending on your technical experience and level of customising that you plan to do.