Demonstration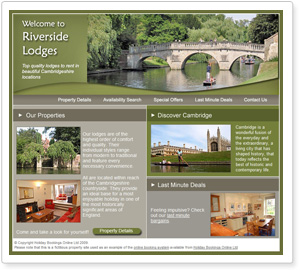 Take your booking system to another level with
our customisable page upgrade.
Using Holiday Bookings Online is simple, safe and secure. The step by step wizard will get you started and adding online booking to your website just involves some easy HTML hyperlinks.
Setting up our property, price and booking details was simple.
Tracy Rist, Cornwall Apartment Holidays.

The booking calendar makes it easy for the customer to see availability, prices and book online. Find out more...

Create a price table for your web site that your customers can view and proceed to online availability and booking. Find out more...

The owner administration control panel makes it easy to create and update your own special offers in just a few minutes. Find out more...

Customers can search all of your properties for availability. Find out more...

Simple contact form for your website that reduces spam. Find out more...

With our unique customising service HOLIDAY BOOKINGS ONLINE can seamlessly integrate in to the look and feel of your website. Find out more...