Easy Invoicing
Raise requests for deposit and balance payments quickly and easily with the invoicing feature of the online booking system.
Take payments online or print off and send through the post. Makes obtaining deposit and outstanding amount payments less of a chore and means payments can be made online.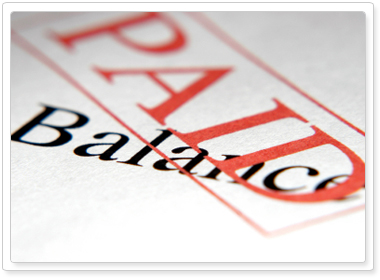 Raise deposit and balance payments quickly and
easily via the booking system.
Raising requests for deposit and balance payments
With your online admin control panel you can generate a request for outstanding payments in just a few clicks of a button. All your and the customers information is completed for you - you just enter the amounts and press a button to email the payment request to the customer for them to pay online.
If you prefer to do things by post you can print off an invoice and send this to your customer.
Wide range of payment options
The booking system offers a wide range of payment options for your outstanding amounts due including:

Bank Transfer
Many customers have online banking making transfers quick, easy and free.

PayPal
Easy to set up and no monthly fees.
Find out more...

Payment over the Phone
Request your customers call you to make payment via your card terminal.

Stripe
Our optional Stripe upgrade saves up to 60% on card processing fees compared to PayPal.
Find out more...

Internet Merchant Bank Account
Full online card processing but requires a merchant account from a bank.
Find out more...

Cheque
Traditional but slow payment method.